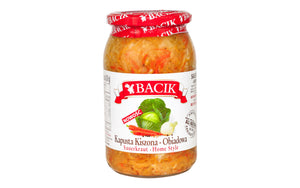 Limit 3 jars per order! 
Net: 900 ml / 31 oz. / 900 gr
Ingredients:
White cabbage, carrots, onions, sunflower oil, sugar, salt, black pepper
Sauerkraut Home Style is the most popular version of the dinner salad, prepared on the basis of sauerkraut. Shredded carrot, onion and sunflower oil are added to it. It has unprecedented taste. It is a great source of vitamin C and fiber.